These bulletin blogs represent news about Finavon and the South Esk, and my views as a riparian owner. While I may digress at times to write about other places, these are not the views of any other organisation, nor are they designed to promote the interests of any individual or organisation other than Finavon Castle Water and factors affecting the fishery. Tony Andrews
In a year when daffodils are still in bloom at the end of May and the ash and oak trees are only just coming into leaf, not to mention the continuing cold sea temperatures, I would be very surprised if the sea trout migration into the South Esk were normal in any way at all.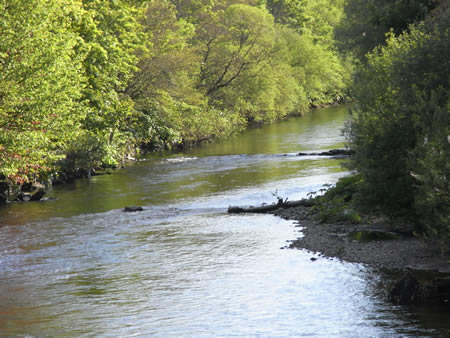 Beeches Pool on Castle Beat in a normal year at sea trout time (late June/early July)
I am therefore surprised that some of our biologists, netsmen and fishery managers are expressing concern at the non-appearance in coastal nets of sea trout. While it is certainly true that sea trout in the last five years seem not to have appeared in the abundance of the 1980s and 1990s, there is little evidence on the east coast that they have yet fallen below conservation levels. Sea trout abundance is notoriously cyclical and rod catch statistics generally fickle and unreliable, dependent as they are on prevailing weather conditions.
A few sea trout have already entered the South Esk, and a handful have been caught. At Finavon we have seen perhaps half a dozen in the main holding pools, but as yet there are no signs of shoals in the usual places (e.g. Willows).
If I reflect on sea trout main run timings of 30 years ago, my game book shows that fresh sea trout started to appear at Finavon in good numbers in about the third week of June, with the run peaking in the first week of July.
I will hazard a guess that we will get that sort of pattern in the 2013 season. Sea liced sea trout at Finavon on 1 July!
In many ways I prefer a gap between the end of the MSW salmon spring run and the arrival of the sea trout, followed by any grilse that are able to circumnavigate Usan Fishery nets (usually about 10%).
That gap was usually 2/3 weeks, and gave time for the hardy culture of spring salmon fishing to give way to the slightly crazy and uncomfortable culture of night fishing for sea trout – well, a culture that the uninitiated public might find rather strange, with images of grown men wading around in the river all night while their saner compatriots are abed.
But to those of us who have had the initiation it is a different story: could there be anything more alluring and exciting than the long pull of a four pound sea trout out of the darkness at one o'clock in the morning? If you haven't done it you should.
TA 30/5