These bulletin blogs represent news about Finavon and the South Esk, and my views as a riparian owner. While I may digress at times to write about other places, these are not the views of any other organisation, nor are they designed to promote the interests of any individual or organisation other than Finavon Castle Water and factors affecting the fishery. Tony Andrews
People who follow these blogs may remember that about 3 years ago I devised a salmon fly specifically for fishing the clear waters of the South Esk in medium or low water conditions. The fly is tied on silver or gold salar double hooks and is characterised by its very light dressing.
I first fished the South Esk in the late 1960s on the Kintrockat Beat above Stannochy Bridge near Brechin, which in those days was owned by the late Hon John (Jock) Leslie. In fact he owned a longer stretch of the river than comprises the Kintrockat Beat today. The Dam was the most prominent feature of the beat in that it held back a large area of water above it. Huge shoals of sea trout collected in that pool any time from mid May onwards. Thanks to the kindness of Jock Leslie I fished that pool regularly for sea trout at night, and salmon during the day (always after a spate) during the years 1971 to 1980. His advice on fishing the South Esk was "to fish small and slight" and I have paid heed to that advice ever since.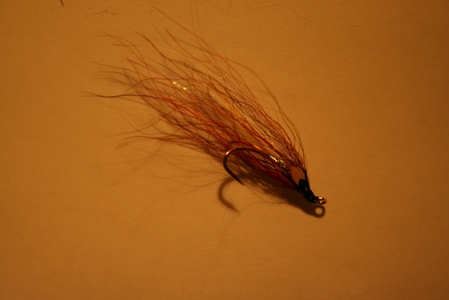 Hence the Finavon Whisp (above). Body a bed of silk and varnished-in silver or gold tinsel (I like flat silver overwound with ribbed gold or wire) Dyed squirrel hair of selected shades tied sparsely 360 degrees around the shank with a strand or two of 'flash', and well beyond (100%) the bend. Cheeks with small jungle cock cape hackle bases tied in closely to the squirrel hair 'wing' at the head. Very simple & effective. It's all you need.
I make no claim to be any sort of expert when it comes to tying up a nice looking salmon fly, but I think I may have an idea of what works in the South Esk when it comes to attracting summer and autumn salmon and grilse. This fly works by persuading fish to take when the water is clearing after a spate or in the clearwater conditions of a 'steady' river, I think for a number of reasons:
An impression rather than a statement. An illusion that evokes territorial behaviour, curiosity or remembered hunger responses
A delicate, light fly that lands in a quiet stream or in a shallow riffle with a minimal splash, and can be fished close to the surface or deep.
A fly that is easily cast on light tackle and can be fished accurately with leaders of 6lbs to 10lbs
A fly for a small stream that invites minor tactics (as GEM Skues might have said)
A fly that is adaptable, simple to tie, cheap and does not require any special skill to make.
A fly for all seasons!
Do try fishing the Finavon Whisp. Gows of Dundee have commissioned the famous Irish fly tyer, Paddy Bonner, of Ballymina – and whose shop overlooks the famous Ridge Pool on the River Moy – to tie this pattern in various sizes. It will be on sale from August in their Dundee shop and on line. Contact Ryan Balcombe or visit the Gows of Dundee website if you are interested www.gows-secureshop.co.uk/contact.asp
TA 30/5/2013