These bulletin blogs represent news about Finavon and the South Esk, and my views as a riparian owner. They are not the views of any other organisation, nor are they designed to promote the interests of any individual or organisation other than Finavon Castle Water and factors affecting the fishery. Tony Andrews
The last week has been cold and the river level dropped away until yesterday (Thursday) when all hell broke loose in the Angus Hills. The result of exceptionally heavy mid June rain (spare a thought for the grouse chicks on the high moors) can be seen on the South Esk Finavon webcam which shows a chocolate coloured river and no sign of the 'armchair rock' – the one normally visible in the centre of the webcam picture.
Reports from the Marine Scotland website show that radio tagged salmon from the Usan nets (South of the Scurdie Ness point) have entered the North Esk in greater numbers than into the South Esk. But the numbers of tracked fish are not great, By far the largest number of radio tagged fish are those that have gone missing. We may speculate where they have gone, but in my view there is little point in doing that because it will not advance our knowledge. What we can say is that the bulk (all except 4) of the fish that have been tracked subsequent to tagging have entered the two Esks, and a significant number of those fish have later exited those rivers. Those facts represent hard data.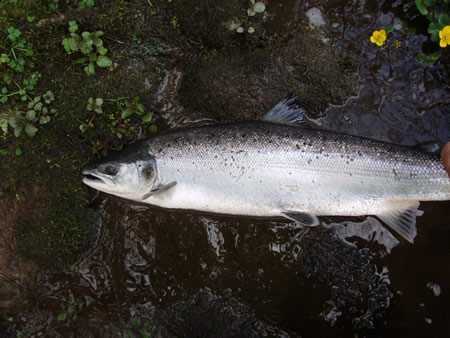 In the current week (ending on 23/6) we have caught sea trout during the day on small cascades and Ally's Shrimp flies. Much to our surprise a 19lbs cock salmon – slightly coloured – came from the Flats and another – mint fresh – 9lbs fish from Melgund. All these fish were caught in low water.
I will not make any claim that there are many fish in Finavon's pools, except to say that fish have been seen on every visit to the river, but they are extremely difficult to catch, especially at night. Andy Walker from Pitlochry fished the beat on Wednesday but, during a long night, caught nothing except a few hungry resident brown tout. Night fishing has been dour, to say the least.
And now we have this big spate which will certainly move fish into the river and resident fish may be tempted to move on upstream.
Let's see what that brings!
TA 22/6/2012