AST APPEAL FOR £5 DONATIONS TO PELAGIC BY-CATCH PROJECT AND THE CHANCE OF WINNING SOME SALMON FISHING AT FINAVON CASTLE WATER ON THE SOUTH ESK TOO!
Dear Supporter
I have decided to offer three days salmon fishing for two rods at Finavon as a lottery for a name which I will publicly draw from a hat in the Finavon Hotel on the 1st of October. The three days will be the last three days of the 2014 season which can be good fishing if there is a nice level of water. The three days are the 29th, 30th and 31st of October 2014.
To enter for the lottery you need to donate a minimum of £5 to the AST and mention 'Pelagic By-catch'. Go to the AST website home page www.atlanticsalmontrust.org and double click on the 'donate' button top right of the home page.
By donating you will therefore contribute to an important project to save our salmon from getting accidentally killed by trawlers AND you will have a chance of winning some very nice fishing on the Finavon Castle Water.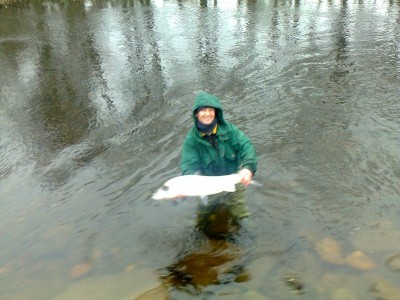 A 15lbs salmon at Finavon in 2014
For details of the Pelagic by-catch project please see the AST website or visit either the Finavon Casdtle Water Facebook Pages or the Atlantic salmon Trust Facebook Pages.
TA