February the sixteenth this year was a Sunday, so no-one fished on that day. On Monday Moray caught a well conditioned kelt in Haughs Pool (immediately below the old pipe bridge) and on Thursday Ian Mac Master caught a thin but well restored grilse kelt in the Flats (Milton Beat). No frersh salmon have been seen yet.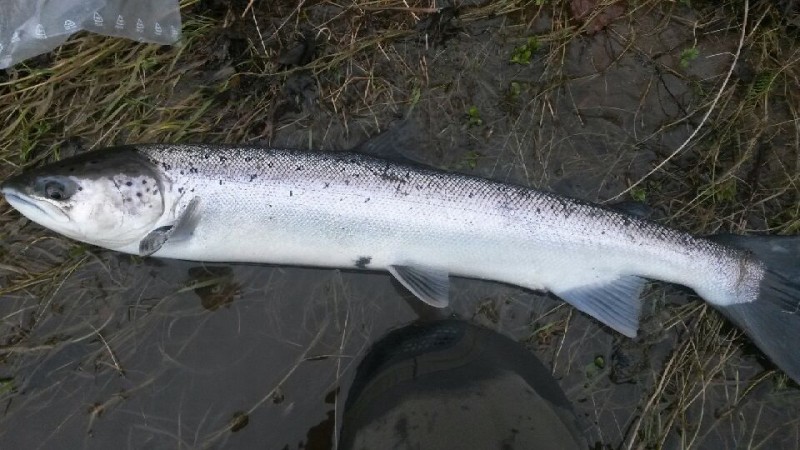 A well-mended but very thin grilse kelt caught and returned to the river in Flats on Milton Beat. The 'belt-like' profile, distended vent, oversized head and hard bright silver colour are characteristics of spent salmon (kelts) easily seen in this photo by Ian MacMaster. Closer inspection would most likely reveal the presence of gill maggots. It is good to see the fins of this fish in such good condition. Unfortunately, very few of the South Esk's salmon kelts live to return to the river to spawn again. Those that do (a lot less than 10%) are nearly all female.
The South Esk is in excellent ply, with clean gravels and manageable levels of repair to banks needed after a series of moderate spates – nothing approaching the disastrous floods of further south. I feel we have escaped lightly.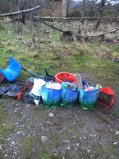 Some of the rubbish collected by the Scottish Oak Team last week from FCW riverbanks and woods after the winter floods. This was the result of a one-day clear up. One of the issues for anyone managing a river beat is that people throw their rubbish into the river – including on one memorable occasion a full-size blow-up Japanese (female) doll – which can ruin the feeling of wild natural environment that a river should have in its riparian setting. We spend a lot of time removing the junk and detritus of our 'civilisation'.
The situation with the Usan nets, as I mentioned in an earlier blog, now needs resolving – at the very least to sort out the issue of nets killing fish during slap periods and the close season. We should not allow a situation where the law is being ignored (or worse) to damage the South Esk's wild salmon and sea trout stocks. At present it most certainly is.
There may now be signs of official movement, with a legal process starting, a national review of freshwater angling management, another assessment of the value of Scottish freshwater angling to the economy and an ongoing focus on the South Esk by Marine Scotland and SEPA. In the background, but most importantly, the River's SAC status makes it a priority in terms of the two qualifying species – Atlantic salmon and the freshwater mussel.
You would have thought that all this research and other activity might have resulted in more targeted conservation action. Not yet I'm afraid.
TA