These bulletin blogs represent news about Finavon and the South Esk, and my views as a riparian owner. They are not the views of any other organisation, nor are they designed to promote the interests of any individual or organisation other than Finavon Castle Water and factors affecting the fishery. Tony Andrews
In fact we have been seeing sea trout for over a month, but the cold weather has not attracted fishers onto the river at dusk with the result that fishing effort for these early running fish was almost zero. Saturday 2 June was a bit warmer and the river was still fining down after last week's freshet, with a touch of peaty colouring. 5 of these sea trout (up to 3 lbs) came from Milton Beat, where Willows and Volcano both held small  shoals. There are still salmon in the pools, most notably in Tyndals where there are some fish in the 12lbs to 15lbs category. The last fish from Tyndals was a 5lbs slightly coloured salmon which most of us would put down as a grilse, more because of its size than any other reason. On the same day Colin Gibb caught a 5lbs fish at Inshewan, scales of which revealed it to be a 2SW salmon. These small fish are becoming commonplace in the late spring in recent years, suggesting perhaps that their feeding areas at sea have a lesser abundance of nutritious prey species than the areas providing food for the early running spring salmon of February, March and early April.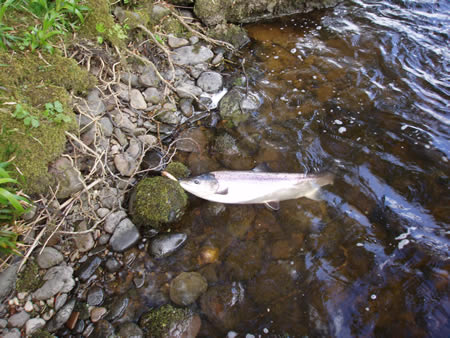 Tyndals is our most reliable spring pool. This 7lbs salmon was one of 8 salmon to come from Tyndals in the early weeks of the 2012 season. To fish Tyndals effectively you need to wade the river, which is not always inviting in the cold, heavy waters of an Angus 'spring'. Hence the pool is under fished and this one, in a spring snow melt, was caught and returned using a 2.5″ Rapala which we occasionally allow in such conditions.
We need more water (not too much) and a rise in ambient temperature. If we get both my guess is that sea trout will start running the river in good numbers, with the run peaking in the last week of June or the first week of July. The Finavon sea trout syndicate began their sea trout fishing season tonight (4/6)  and I wish them 'tight lines'.
I will try to get another update from the Montrose MSS team on Wednesday.
TA on 5/6/2012