These bulletin blogs represent news about Finavon and the South Esk, and my views as a riparian owner. They are not the views of any other organisation, nor are they designed to promote the interests of any individual or organisation other than Finavon Castle Water and factors affecting the fishery. Tony Andrews
While I was flying back from Halifax Nova Scotia in 4 and a half hours, thanks to a powerful tail wind, all hell broke loose weatherwise in the Angus glens. The flood that followed thirty six hours of rain brought the South Esk up seven and a half feet in Brechin. All the woods at Finavon were flooded, our bank-side furniture was rearranged, and the Tyndals webcam told the story to anyone anywhere who cared to click in. Up the road the Northie was doing its Zambesi imitation even better than the Southie, with ten feet of extra water recorded at Logie. A proper autumn spate provided the stimulus for our late running fish to head upstream.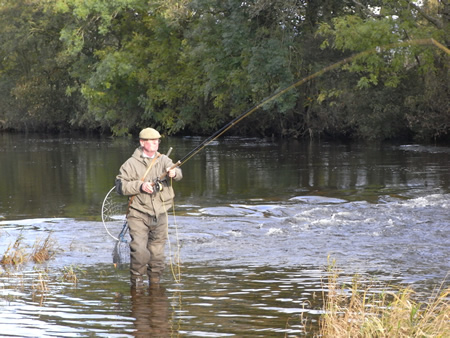 Alec Towns fishing Volcano in perfect conditions for an autumn salmon on the 15th of October 2012. He later caught two salmon in Indies, both of which he returned alive to the river.
And so it proved. On Saturday we caught five salmon and grilse (all returned), three of them fresh and all on the fly on Milton Beat where Willows and Boat Pool (as usual) scored. The largest was 12lbs.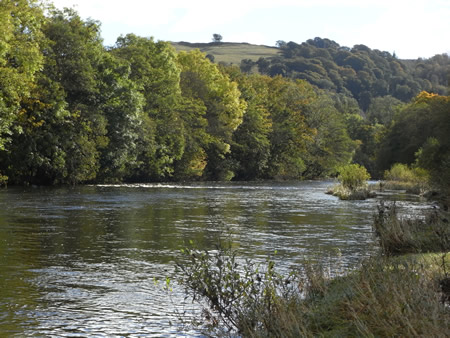 The photo above shows Lower Boat Pool, with the Flats beyond, looking downstream towards the Red Brae and the backdrop of Finavon Hill. This is the setting of the river South Esk at Finavon. All four FCW beats are overlooked by the historic, and often spooky, Finavon Hill with its vitrified fort like the crater of a Volcano at its summit. In this picture the river is in superb condition for fishing the fly for an autumn salmon
On Monday (15/10) we caught another seven fish (all returned), including a nice fresh hen fish and two fresh grilse. There were two fish of 10lbs. Very few fish showed during the day as the river slowly receded and cleared. With extra top-ups of showers and some rain we should be alright for the rest of the 2012 season. As I write this bulletin on 15/10 FCW has a season catch of 119 salmon and grilse and 157 sea trout.
TA