These bulletin blogs represent news about Finavon and the South Esk, and my views as a riparian owner. They are not the views of any other organisation, nor are they designed to promote the interests of any individual or organisation other than Finavon Castle Water and factors affecting the fishery.  Tony Andrews
Mid April brought snow on the hills and heavy rain in the Vale of Strathmore. A cold east wind and fluctuating river levels have made it a difficult week for anglers, although a few loyal and intrepid Finavon fishermen have worked hard. I fished down Milton Beat and saw two spring fish in Volcano and Willows. Moray saw a fish in Frank's Stream, but my impression is that the main spring run is waiting offshore for better conditions, which seems to be supported by the radio tagging project evidence of less than 20% of the salmon tagged entering the two Esks.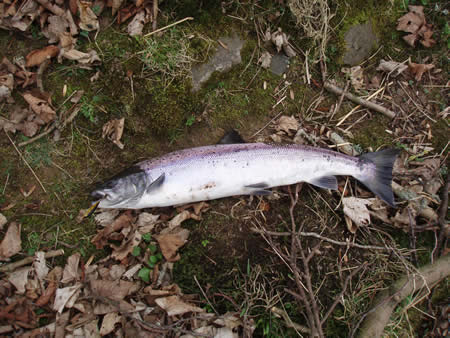 FCW's 4th salmon of 2012. One 9lb salmon was caught from the South bank of Tyndals, a rather unusual occurence which happens when a tired fisherman, after fishing through the main holding pools on Milton Beat, has a 'last cast' in Tyndals from the head of the pool by sliding down the bank beside the carpark! It works well sometimes, because it is possible to present the fly effectively to fish in the main lie, and that is precisely what happened on this occasion.
Silt: the cholesterol of salmon rivers: I continue to have a concern about the amount of silt in the river at higher levels, and also by the deep peaty colouration of the water. As a long-term observer of the South Esk I can say that it is not normal to have this level of siltation and peat in suspension at the end of winter. While in late spring and summer we expect to see organic material brought down by spates – indeed, the South Esk is notorious for that – we expect the spates of the early spring and late autumn to reflect the leaching of soils by rain and limited transpiration. These conditions of increased deposits of silt are not good for the river. They clog up the spawning gravels and cobbles and limit production of invertebrates, thus reducing food for juvenile salmon and sea trout. We must identify the cause of this threat to optimum habitats and take remedial action quickly.
Postscript written at 1900 on Saturday 21/4: Tony Duff had an 8lbs salmon from Lower Boat Pool in sa falling water at about 5pm and I followed his with a 10lbs fish from the same pool at about 1830. A number of fish have been showing throughout the day – not in big numbers but certainly enough to give encouragement. The river was clearing after a nice spring spate overnight on 20/4.
TA on 20/4/2012