These bulletin blogs represent news about Finavon and the South Esk, and my views as a riparian owner. They are not the views of any other organisation, nor are they designed to promote the interests of any individual or organisation other than Finavon Castle Water and factors affecting the fishery. Tony Andrews
The pools have been well fished by rods who know FCW well, but catches have been erratic with a dearth of fresh autumn fish. Each autumn is different, and the adundance or otherwise of salmon returning to the river is another variable. We have had good water levels, and even now, with the water gin-clear and falling after the big spate of mid October, the level is at a good fishing height. But, in this section of the South Esk, there are very few fresh fish.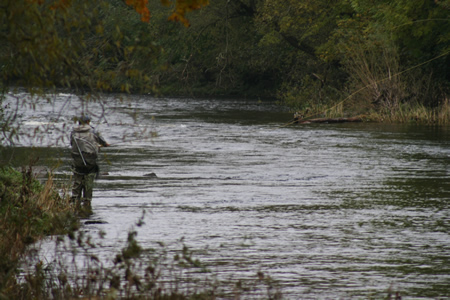 Simon Walter fishing Kirkinn on Castle Beat in excellent water in mid October. Simon and his brother, Hugh, caught 5 salmon and a seatrout during their late season week at Finavon.
There appear to be a good number of old stagers, familiar by now to everyone who fishes here regularly, but 'pods' of fresh salmon arriving in the pools are a rarity. I did see at Willows last Saturday a good shoal of fresh salmon, maybe a dozen MSW fresh salmon, passing through, and that is exactly what they were doing by not even pausing as they made their way upriver. A verbal report from Inshewan indicated that no new fish have been seen there.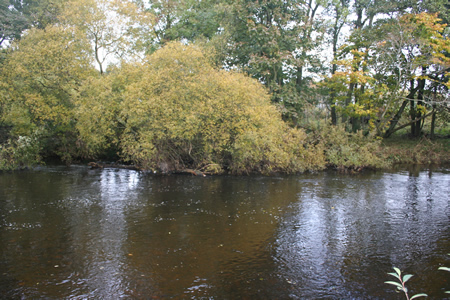 The main lie at Willows on Milton Beat in perfect autumn conditions. But where were the fresh autumn salmon in October 2012?
Upriver, it is encouraging to see on Fishpal that Cortachy and Downie Park are catching fish every day. It will be interesting to learn what proportion of those salmon were fresh. At Careston I have heard of coloured fish being caught in reasonable numbers. Inshewan, like Finavon, is currently struggling to catch even the occasional fish.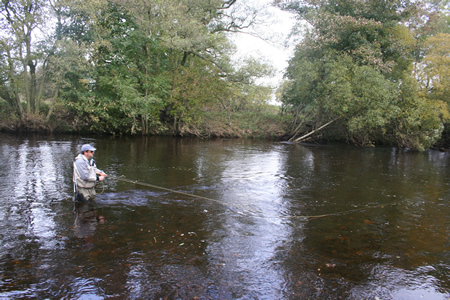 Simon Walter fishing the best lies in Willows (Milton Beat) in excellent conditions in October 2012. Although Willows is undoubtedly the most productive place of all Finavon's pools to catch an autumn salmon, it was not as generous this year as it can be.
It is a bit too soon to comment on the 2012 season as a whole, so this blog is just an October snapshot. If we get rain – and some is forecast for Saturday (tomorrow) – and if a blizzard of falling leaves doesn't impede fly fishing too much in the last three days of the season, we could yet see additions to the FCW catch, which today stands at 136 salmon and grilse and 160 sea trout.
TA 26/10/2012