With the water clean & clear – the pale sherry colour of a top Speyside malt – and the level holding well with top-ups from showers in the hills, the late spring salmon run continues. I was pleased to see that Cortachy and Downie Park had six fish yesterday (14/6), I suspect with a high level of expertise going into the catching of them. At Finavon Ian Maclean caught a fresh 8lbs fish in Melgund Pool (Indies Beat) and late in the evening I had a 2lbs sea trout from Upper Melgund Pool, fishing from the south bank. We saw a few travelling fish, and my guess is that from now on the upper river will do much better than so far this season.
The upper river – Kirriemuir Angling Club up to Gella Bridge, Cortachy Castle and Downie Park from the Sawmill Dam to Shielhill Bridge, and Inshewan – is really the cream of the South Esk fishing. While the genuine middle beats – exemplified by Finavon, Careston and Kintrockat – offer the angler some good fishing, especially in the spring and autumn, and for sea trout, the 'highland character' of the South Esk is defined by those beautiful upper river beats: I often think of them as the essence of the South Esk, a true Highland river, whilst the middle and lower beats all the way down to Kinnaird and House of Dun, are more lowland in character, or, as someone said to me the other day, more like a West Country river.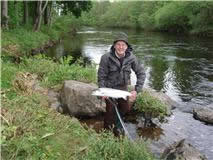 This morning (16/5) I heard from Marshall Halliday, Clerk to the Esks Fishery Board, the excellent news that the nets at the mouth of the South Esk (the USAN  nets) will be releasing all sea trout back into the sea alive with immediate effect. 
This is marvellous news for the South Esk and should allow our beleaguered sea trout stocks to continue rebuilding. I must congratulate the Board for getting its priorities right and negotiating this matter to its logical conclusion. The South Esk's economy is based on its sea trout as well as its salmon. This is truly a great start to the week, and the news comes in the nick of time to let all our early sea trout, as well as the main runs later in the summer, into the river.
TA