I have been amazed by the strength of interest shown in our little fishery on the South Esk – Finavon Castle Water. This support has encouraged me to write on a whole range of topics in these posts, and the more diverse they have been, the more likes have been registered.
David's Tree House (DTH)
Looking after a fishery is a fascinating and complex task which requires a balance between providing access to our visitors (whatever their interest), and conserving the natural environment of the river and its surroundings. I wouldn't be able to do any of these things without my team of helpers, including Will & Jo Wells of Scottish Oak, Derek Strachan  and Angus Tree Surgeons, and my new assistant on the river banks keeping the pools fishable, Iain MacMaster. These people are the team that eradicate invasive weeds such as giant hogweed and Himalayan balsam, trim obstructing foliage, coppice and plant trees, remove litter, clear up flood debris, clean and supply the four huts and the Treebog, cut the grass paths, carry out safety checks, and paint huts and bridges woodwork with cuprinol etc.
Simon Walter, our web designer, keeps coming up with great new ideas and products, such as the new booklet, pool-by-pool fishing guide for anglers without a ghillie. The website Simon has created is widely recognised as a model of how to promote a fishery!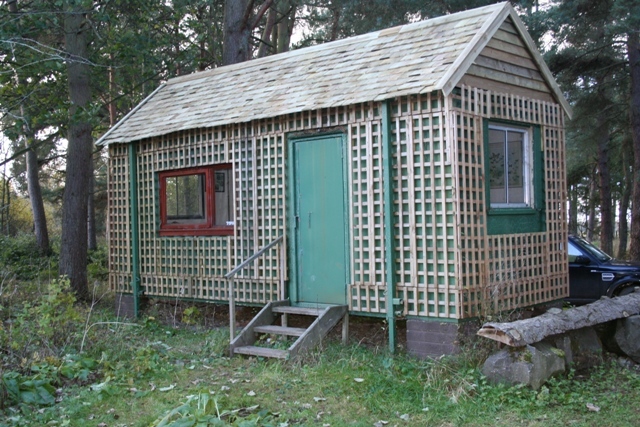 Indies Hut
Before we developed our Facebook pages and website our local fishing tackle retailer, Angus Angling, did much to raise the profile of FCW, especially in the period immediately after the rejoining of Fortesk with FCW in 2008. Angus Angling is one of Scotland's best tackle shops and I am hoping that the new Lochlands Game Fishing Enterprise next to the A90 will attract visitors into the town. Two tackle retailers in the town is as it was and should be, especially if we can siphon off some of the passing traffic. Who knows? the critical mass thus achieved may make Forfar a destination for anglers in much the same way as Penrith has become. One only has to think of all those great rivers north of Forfar up the A90 to realise that there must be hundreds of anglers passing through. They now have a reason to stop. We must build on that.
Red Brae Hut
There is also a group of local people who fish FCW pools regularly and who give their time willingly if there's a job to be done (like clearing rubbish from the Lemno Burn). Moray Macfarlane is our preferred ghillie/guide, who operates on a freelance basis and acts as syndicate coordinator.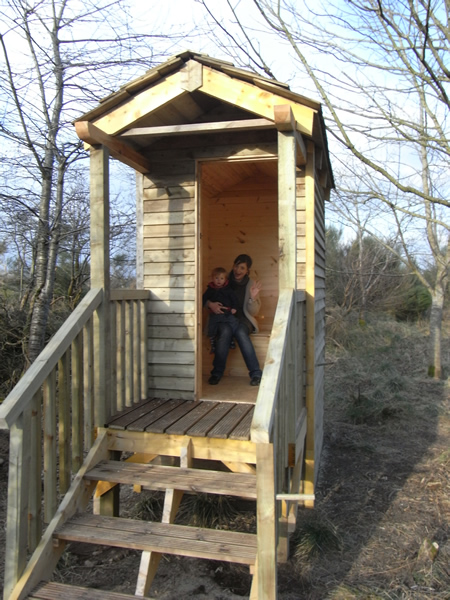 Treebog
Finally, but far from least, we have our developing relationship with Lochlands Game Fishing in Forfar, and the support of Ryan Balcombe, and the Lochlands owner, Phil Ritchie, and his lovely family.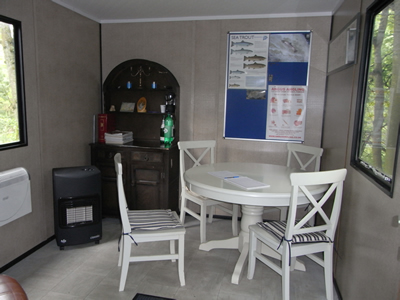 Interior of Bogardo Hut
I reckon that about 250 different anglers fish for salmon and sea trout at FCW each season, and another 250 enjoy the natural surroundings, not to mention my family and friends who love a BBQ on a summer's evening, or a cosy bowl of soup in the warmth of David's Treehouse on a chilly autumn day. Our 4,000 + likes are effectively spreading the word about the delights of coming to FCW to fish, or just to enjoy the river and its surroundings. Thank you again for your interest.
TA