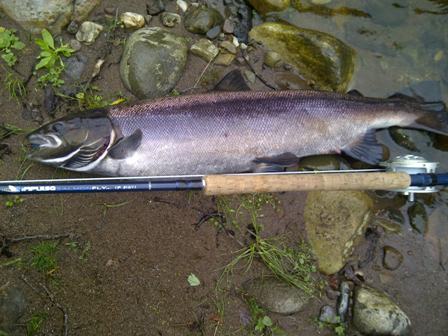 Philip McWalter's 20lbs hen salmon caught in Harry's Bar on 15 October and returned carefully to the River to spawn.Late Season Fishing at Finavon.
Low water & coloured fish.
As I write this blog on Saturday morning 19 October it is still raining after heavy rain overnight. The Armchair Boulder in the webcam view has disappeared beneath a muddy flood and the SEPA level marker tells me that at 0655 today at Gella Bridge the level was 3'2" and rising. It will certainly continue to do so well into the afternoon.
There has been only one place to catch salmon at Finavon this week. We have caught and returned four fish between 7lbs and 20lbs in the little stream known as Harry's Bar (Bogardo Beat), just above the deep water at the head of Melgund Pool. Although there have been fish showing in the main pools, they have been reluctant to take, and all of those seen were coloured. In the previous week there were two fresh grilse caught, one of which was sea-liced.
As we go into the last 10 days of the 2013 season I note that it has been a poor year for angling – the lowest catch of salmon and sea trout at FCW for more than 30 years. But it has not necessarily been a bad year for the fish. It will be interesting to see what the Usan nets declare and how many keep-ins there were during the season.
Early spawning of sea trout took place and appears to have been successful in the Finavon spawning gravels in September, and there are plenty of salmon waiting to spawn when the water temperature drops decisively, probably next month and in December.
In my view the river is in good ply and, given reasonable conditions over the next 8 weeks, there is no reason why the spawning period shouldn't be productive. In that respect we are wholly in the hands of Nature.
TA