These bulletin blogs represent news about Finavon and the South Esk, and my views as a riparian owner. While I may digress at times to write about other places, these are not the views of any other organisation, nor are they designed to promote the interests of any individual or organisation other than Finavon Castle Water and factors affecting the fishery. Tony Andrews
It has been a very poor season for catching sea trout on rod and line at Finavon. As I write this bulletin on the 2nd of August, our total catch is 13 sea trout so far this year. To put that in perspective, that is the lowest ST rod catch at the end of July at Finavon for more than 30 years. Our local rods have fished hard, some of them all night through on a number of occasions. As catch reports came through, and our syndicate members realised that sea trout were not being caught, morale dropped, resulting in fewer visits to the river.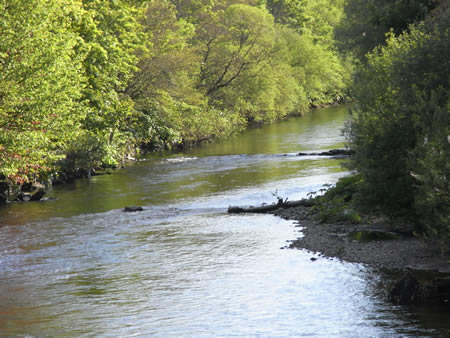 The photo above shows Beeches in low water. After winter floods in 2012/13 eroded the south bank above and below the Aqueduct, Beeches came into its own, as well as the deeper water at the head of Haughs Pool. Throughout the season these pools have been occupied by salmon and sea trout. As I write this blog there is a nice shoal of grilse that can clearly be seen from the Aqueduct, but my guess is that they are virtually uncatchable! 
Low angling effort has therefore almost certainly been a factor in the poor returns, and the extended low water and high temperatures throughout July have also contributed. Other beats such as Cortachy and Inshewan have had better returns than FCW, but in general seatrout catches on the South Esk have been poor this year. Another factor in our catch returns is that very few of our anglers stay through the night. In former years most of our seatrout were caught in the pre-dawn period which I suspect is being unfished this year. I have learned to take a philosophical view of catch returns, although I accept that many people make decisions based on numbers displayed on Fishpal. The points as far as I am concerned are that the river is in good nick (which generally it is, although I acknowledge there are problems, many of which I have written about in these blogs) and also that there are fish in the river.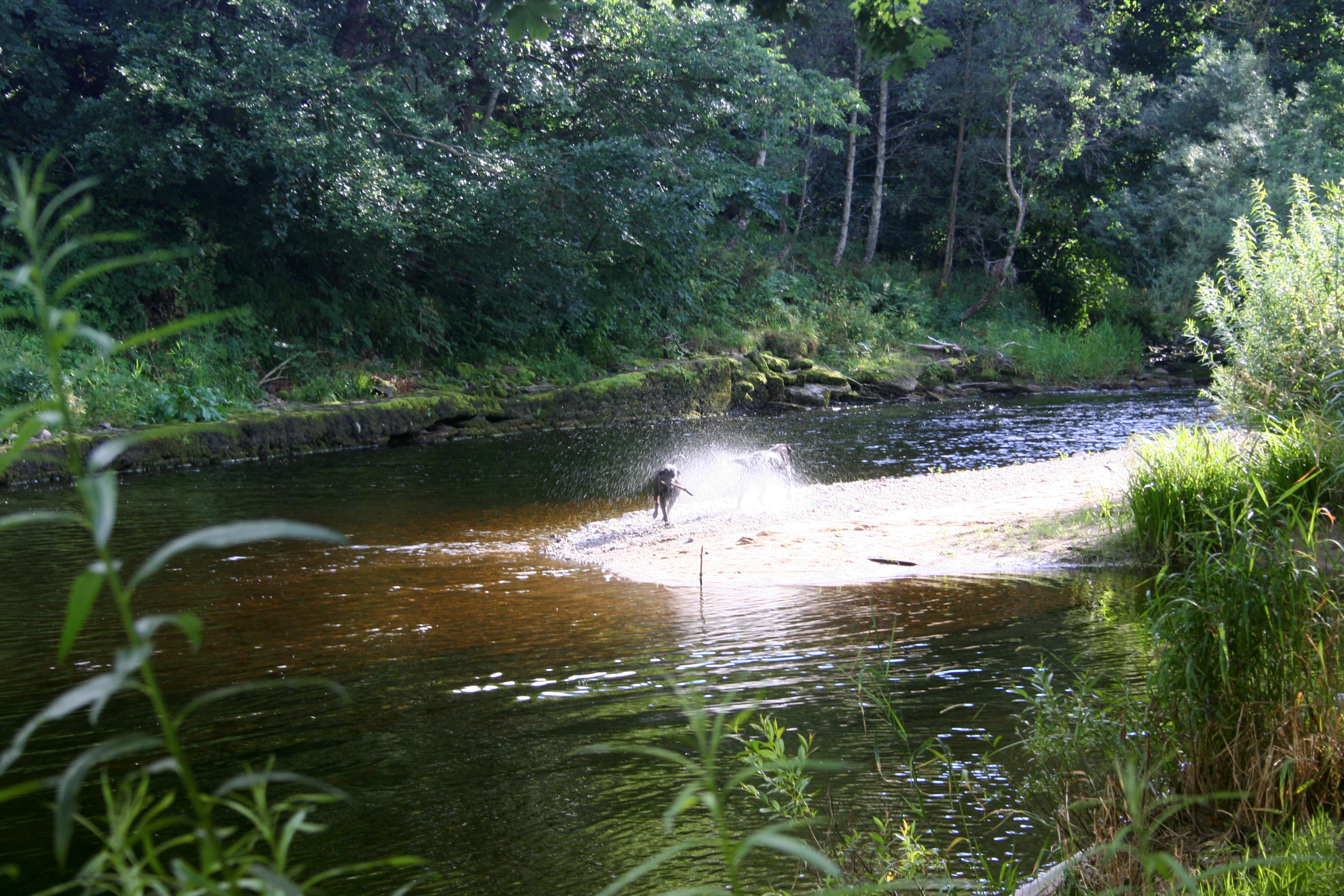 Two black labradors spray drying each other after a dip in a very low Red Brae in the heat of the July drought.
As I continue writing this blog on 7 August I note that there are some fresh grilse at the head of Haughs and that Derek and I accounted for three salmon (all returned) in the recent freshet. There is observational evidence that there are some new fish in the river, and their numbers should start to build up as the late summer progresses. As far as sea trout are concerned, the season is over – bar the shouting.
Last night I was invited for an informal chat with the Kirriemuir Angling Club committee. It was an interesting discussion, mainly but not exclusively on the subject of the mixed stocks coastal nets at Usan. Not surprisingly, there is a high level of frustration within the committee on the apparent powerlessness of the Fishery Board in a) monitoring b) enforcing the weekly netting slap times (from 1800 on Fridays to 0600 on Mondays throughout the netting season). The fact that noone knows what is happening makes the matter appear bigger than it should.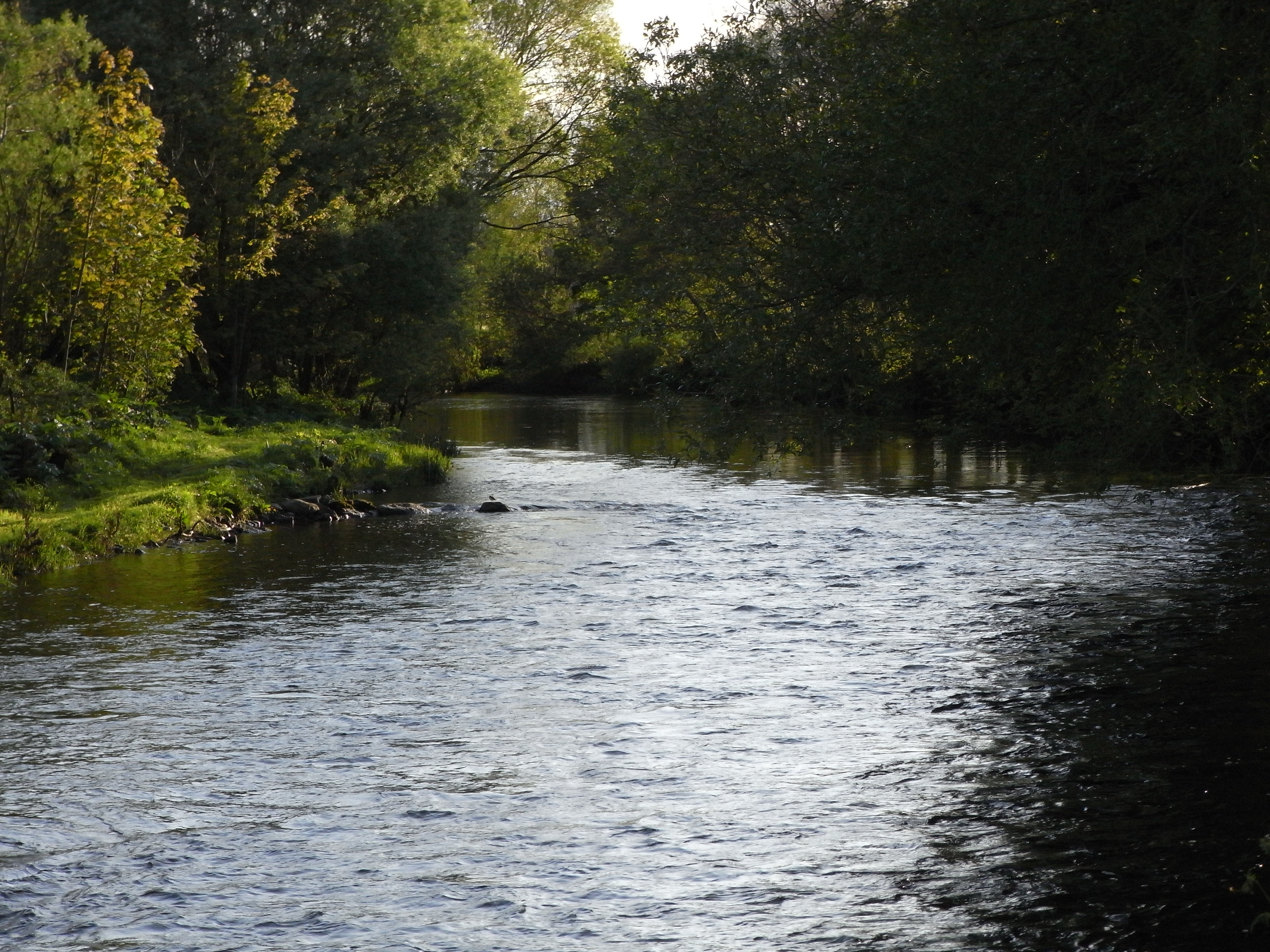 This photo shows Harry's Bar at a nice height for a late summer grilse or salmon. It was in this pool that Derek caught a nice salmon in early August and lost another before leaving for fishing duties in 'another place'!
My personal view is that 'keep-ins' (when the netsmen decide for reasons of 'safety' to continue fishing throughout the statutory slap period) should be in the public domain and published weekly by the board. It seems extraordinary, however delicate the behind-the-scenes activities of the fishery board, that in this day of freedom of information we are in the pre-computer age as far as being kept updated is concerned. It would be interesting to see if under FOI this information should be in the public domain.
I will write more fully on the evening spent with the KAC committee in my next blog.
In the meantime, if any of my readers can spare three or four hours next Sunday to help with pulling out Himalayan balsam plants we are meeting at my house at 1100. Beer and sandwiches and a day's fishing in the autumn for anyone who comes to Finavon to help our assault on the dreaded weed. We are NOT dealing with Giant Hogweed. That has already been done professionally. Please phone me (07748 634 658) if you can attend.
TA