We have just ended another lengthy spell of low water. In such conditions, and despite the presence of salmon, grilse and the occasional coloured sea trout in all the main pools, the fishing is slow, if not stationary. After 24 hours of equinoctial gales the rain has started to fall in earnest. If it continues for another few hours we can expect the river to rise overnight, and tomorrow should see some long awaited action.
Yesterday, Moray Macfarlane, Finavon's angling manager and ghillie, showed some large salmon lying beneath the Aqueduct to our visiting anglers, Colin and Sally Bateman. On an otherwise very quiet day for fishing it was a reminder that in the right conditions and at this time of year there are some nice multi sea winter salmon to be caught. These three fine fish were all in the 10lbs plus category with the largest one somewhere near 15lbs; nothing unusual here, but reassuring to us all in a drought.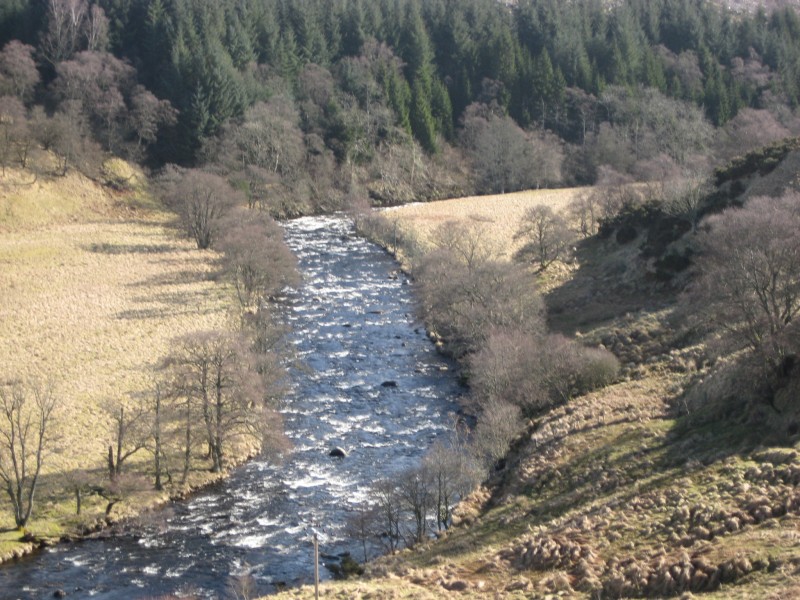 This is the South Esk in Glen Clova, where many of our spring salmon spawn.
We are now entering the busiest period of the year for salmon fishing and if the water levels stay reasonable we can expect to see, perhaps even catch, some nice salmon. With the coastal netting season over and the river effectively open to all the tides there is no reason why returning salmon should not enter the river and swim as far upstream as they wish. In the old days (pre 1946), when there were dams at Kinnaird, Brechin, Aldbar, Finavon, Justinhaugh, Craigeassie and Cortachy, autumn running salmon were slowed down by these obstructions to their upstream migration. But now there is no real impediment at all. Only the much improved Kinnaird fish pass remains. This means that when conditions are right the fish can make it to Glen Clova, without anything to obstruct them en route.
Autumn fishing on the Middle and lower South Esk is much in demand. We have a few days left. If you would like to try for an autumn salmon at Finavon please text 07748 634 658.
TA on 8/9/2010
STOP PRESS!
The flood arrived and as I write this at 0700 on 8th September the water is starting to clear after heavy rain yesterday and overnight. We have a group of six experienced anglers, led by Adam Carr, fishing this week and they will be very unlucky if they don't catch a salmon or two. Conditions should be really good until the end of the week.
TA