These bulletin blogs represent news about Finavon and the South Esk, and my views as a riparian owner. They are not the views of any other organisation, nor are they designed to promote the interests of any individual or organisation other than Finavon Castle Water and factors affecting the fishery. Tony Andrews
The incessant rain of the summer continues, and our farmers are starting to worry about the forthcoming barley and wheat harvests. As far as South Esk migratory salmonids are concerned, the rains and repeated freshets have ensured that this year has been a good one for gaining access to the river.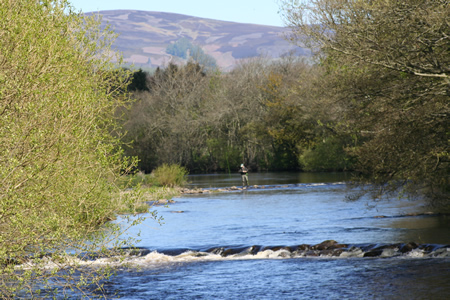 This is the view from the suspension footbridge at Red Brae upstream towards the hills. The angler is fishing the Flats in good conditions for a fish.
Radio tagging project. There is little doubt that both salmon and sea trout are well spread out throughout the catchment, evidence for which can be seen in the distribution map of Marine Scotland's tagged fish (dated 24/7/2012). It is interesting to note that there are only 12 radio-tagged fish recorded in the South Esk catchment, out of a total number of 153 fish radio tagged in the Usan mixed stocks nets between February and the end of May. Of this total of 12 MSW salmon, one February tagged fish is still in the Brechin area, three March tagged fish are above Brechin, two of which are in the Tannadice area, two April tagged fish are lying in the Finavon and Tannadice area, and six May tagged fish spread throughout the main river, one of which has entered the Prosen. One of the May tagged fish is in the upper South Esk at Braedownie. The six fish that are described as having "returned to sea" are presumably South Esk fish that, for reasons unknown, changed their minds. It is not known whether these fish may have re-commenced feeding at sea, and therefore whether they may have rejected their transmitters (see paragraph below).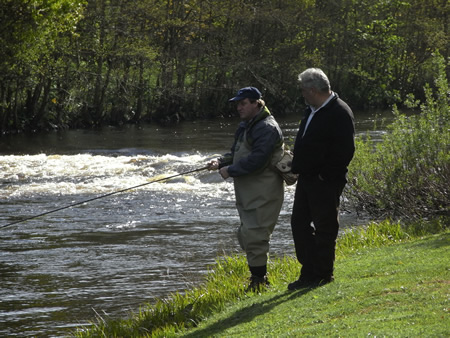 Moray Macfarlane giving advice to a visiting fisherman at Frank's Stream
With less than 25% of the total of 153 radio tagged fish recorded by receivers in the Dee, North Esk, South Esk and Tay, it is a bit of a puzzle as to why so few fish have been recorded. Scientists involved in more than 25 years of radio tagging, especially on the Aberdeenshire Dee, tell me that the 25% figure is no surprise and tallies with their experience. There is some speculation as to whether salmon that have not ceased feeding in the sea may 'cough up' the little radio transmitter. The assumption behind the radio tagging method, which involves anaesthetising the fish and inserting the transmitter into its stomach, is that the atrophied stomach of a fish that has ceased feeding in preparation for its spawning migration into fresh water will not reject the transmitter. However, if the stomach is still active, as may well be the case with salmon returning to the Scottish coast in February, March and early April, when the sea and rivers are still cold and fish disposed to continue feeding, the transmitters may be ejected.
As I write this blog on the 8th of August we are still catching sea trout at Finavon, bringing the season's total to an encouraging 128. Patience is usually rewarded, as happened with the Martyn Gregory group last week, who caught 10 sea trout and lost many more in conditions that were not ideal, the main reason being that the bulk of the 2012 sea trout run was already in the upper catchment. There really is no substitute when fishing for sea trout other than putting the hours in throughout the hours of darkness and well into the early dawn, when water levels allow.
As far as salmon are concerned 57 fish from FCW pools by early August is not too bad. Another good summer freshet is currently fining down and, if there are fish now arriving off the coast, I have no doubt that they will not find it difficult to enter the river. Reports from Ireland, Norway, Spain and France suggest that 2012 has so far been a very good year for large, well conditioned MSW fish. This trend was predicted by Jens Christian Holst, the Norwegian marine ecologist, who bases his predictions on abundance and quality of planktonic species and the wellbeing of other pelagic species such as mackerel, herring and blue whiting. He also predicted another low abundance grilse year in 2012.
So we now wait to see what the autumn will bring and whether we get the weather and water conditions to catch a few of those big autumn running fish!
Postscript written late on 8/8/2012. I had been waiting all day for the river to drop and the water to clear. At about 1830 conditions had improved to the point where I felt it was worthwhile fishing a size 12 cascade on a silver Salar double through selected FCW pools. As I started fishing it became evident that there was a run of fish – mainly small grilse – taking place, but in amongst them there were some large MSW salmon, all fresh from the sea. I started with Red Brae which was fishing perfectly with the level just lipping the top of the lowest section of the wall. Half way down the pool there was a gentle, almost silky, draw on the line resulting in a 5lbs fresh cock grilse with a damaged red vent (RVS). Knowing that Willows would have a concentrtation of resting fish I moved upriver and by the time I had finished fishing the 40 yards of Willows – again at a perfect height – I had caught a 6lbs grilse and a beautiful fresh 16lbs cock salmon, which I weighed in the net before returning. There were many other fish showing at the Willows and further downstream, but, after a perfect evening's fishing I decided to return home knowing that I could most likely have caught another two or three fish. I also saw some sea trout but they were all well past their best.