These bulletin blogs represent news about Finavon and the South Esk, and my views as a riparian owner. They are not the views of any other organisation, nor are they designed to promote the interests of any individual or organisation other than Finavon Castle Water and factors affecting the fishery.  Tony Andrews
A surprise fish in bright sunshine
We were surprised and delighted when our New Zealand visitor, Roger Findlay from Christchurch, caught and returned a small salmon (possibly an early grilse) in the head stream of Tyndals. The fish was caught in briiliant sunshine in the middle of the day with only 4″ on the SEPA level guage at Gella Bridge. Roger's catch ensured that we did not have our first blank week since late March and brought the FCW salmon catch to 20 for the 2012 season to date. Well done Roger!
View from the Haughs Aqueduct and good numbers of salmon and sea trout in the top FCW pools
An advantage of having the Haughs pipe bridge, which we call the 'Aqueduct', crossing the river at the head of Haughs Pool is that it is easy to see fish lying in the head stream of the pool. A small shoal of rather small sea trout is currently positioned just below the aqueduct and there are some salmon lying further back in the pool, some of which are showing signs of disease. There are also good numbers of fish in Red Brae and Tyndals. Fish have also been seen in Indies (See Derek's report below) and in the main pools of Bogardo Beat downstream at Tollmuir and Marcus House Pools. The gathering of fish in the stream into Tyndals is particularly impressive, with a few sea trout in amongst the salmon.
Derek reported:
"While wading over the tail of Indies after talking to you I noticed a stone creating quite a wake in the fast water.  I went to kick it over while passing and got within 3 Metres of it when it shot upstream and arced around me back down into Martins Cut. I burst out laughing as it came up past me again and put a deep vee well up Indies as it went- a lovely salmon. I caught none but saw half a dozen fish for an hour, so they're there!"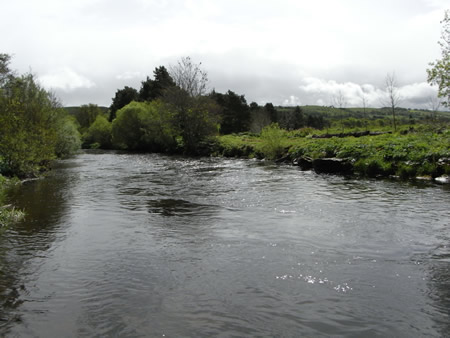 This is Tollmuir Pool from the right bank in summer conditions. This is one of FCW's deeper pools, with the main dub about 12′ 0″ and a beautiful 25 yard stream into the pool and a long hourglass shaped glide out of it. Where the 'waist' is pinched is the main lie in high water. This is a special pool, close to the old toll gate on the main road north, but it is generally under fished because of the effort required to cross the island known as 'Merrinwood' in order to fish the pool effectively from the right bank. You could spend a whole night on this pool at sea trout time!
Report on the MSS radio-tagging project.
16 salmon were tagged last week, which brings the total number of tagged fish since February to 141. We are now just 9 fish short of the 150 target to 31 May. An impressive achievement by our dedicated team of scientists.
3 new fish have been reported, one in the South Esk and 2 in the North Esk. There are no reports of new fish in either Dee or Tay.
There has been some movement in the South Esk, with fish now up to Justinhaugh and at least one fish at Finavon.
The MSS website should go live in the next few days
TA on 28 May 2012