PART ONE: RED BRAE HUT AND DAVID'S TREE-HOUSE
I have long thought that fishing huts make an important contribution to our conservation efforts at Finavon. They distract the fisherman from the task in hand, provide him with a locus for relaxation and probably increase his chances of catching a fish! In the old days (20 years ago) we had no huts at Finavon and our visting fishermen had to fish out of the boots of their cars. If it was wet, windy or cold they ate their sandwich lunches with car heaters turned up, and if they could find a spot with a view of the river they were lucky. There was nowhere to heat a bowl of soup, or relax. That has all changed…
Now we have four huts. The oldest of these is the one at the Red Brae, which was built in 1993 and refurbished in 2010, when we replaced the old corrugated resin roof with larch shingles. It looks much more like a Canadian backwoods, early settler's cabin now. I love this hut because of the views upriver towards the flats, with the suspension footbridge to frame the picture, and downstream to the Red Brae Wall and beyond, where you can often see fish showing. Beneath the hut, almost at your feet, is the alluring and busy little Craigo Stream, so often the scene of late night battles with big sea trout. Craigo boasts a long history of big fish, and I often think there's one there, just a few feet from where I sit with a glass of something or other in my hand in one of those comfortable (ex Cortachy Castle) armchairs (see the photo!) . This is a comfortable hut, very warm and a great place to linger…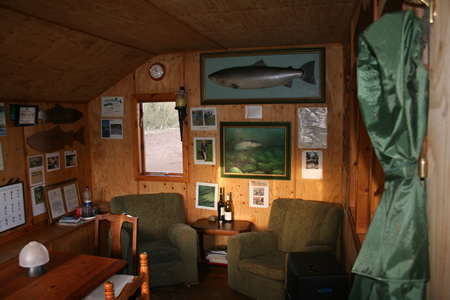 Red Brae Hut interior. The wooden cut-outs are of fish caught recently by people fishing FCW pools. The walls are posted with many interesting snippets of information about Finavon, fish & people who have fished there, and also about things completely unrelated to any of the above!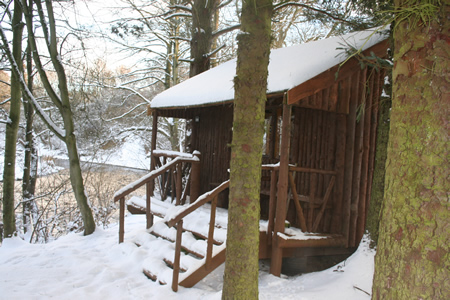 Red Brae Hut in Winter 2010/11.
What better time to linger in the Red Brae hut than in mid winter, very often when the river is frozen and the prints of otters, red squirrels, stoats, rabbits and roe deer tell you that you are not alone! I didn't mention minks: we don't really want these North American intruders, because of their terrorist activities and negative impacts on our indigenous wildlife. We are trying to eradicate them.
In 2010, a few months after the death of our son David, we built a Treehouse fishing hut, which of course we named 'David's Tree-house' ('DTH' for short). He and I planned to build this 'hut' in a more modest way than the final version. We have ended up with something a bit more special than a mere 'hut', largely thanks to the imagination and skills of William Wells who runs a company called 'Scottish Oak' (which you can google). The construction of DTH was based on a mixture of treehouse and the practical requirements of a fishing hut. I think you will agree that the result is an oustanding success. My congratulations to Will and his co-worker, Andrew, for giving us what others may come to see as one of Scotland's most attractive and original fishing huts.  The view from inside this deliciously warm and secluded tree-house is only bettered by the view of Pheasantry Pool from the veranda.  This is a very special place for fishermen and people who accompany them.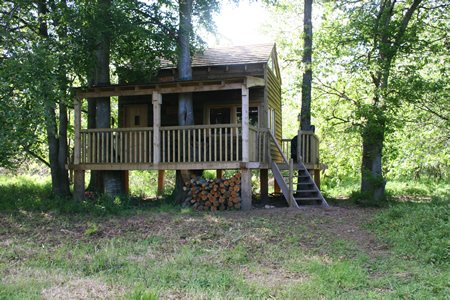 David's Tree House (DTH) on Castle Beat, the N bank of Pheasantry Pool.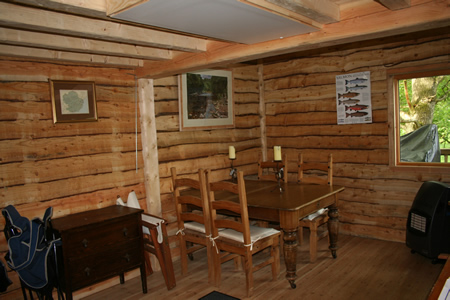 The interior of David's Tree House (DTH)
More of a small house with its loft and spacious downstairs, this is a place for friends to meet and discuss their catch, or prospects for fishing, or to commiserate as the case may be. We use it for family BBQs and picnics all the year round, and our visitors are most welcome to enjoy these wonderful surroundings.The wildlife here is outstanding, whether you are an amateur botanist, entomologist or just enjoy seeing reptiles, birds, flora or fauna, just being here is a positive experience, and having this as your fishing headquarters for the day (or night) is very special indeed. The fishing on Castle Beat can be good in the right conditions. The beat has six substantial pools, including the famous Red Brae. DTH is located in the middle of Castle Beat, all of which is fished from the north bank.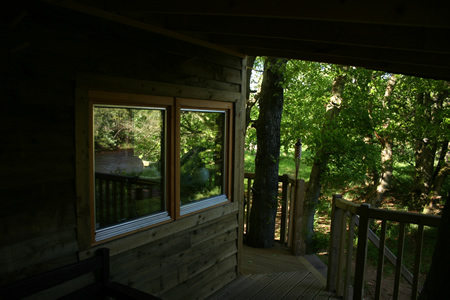 This is the veranda of DTH looking East (downstream) to the steps. The veranda is about 6 feet above the ground with beech trees growing through the deck and the larch shingle roof. There is a bench and ample room for sitting outside during one of those rare mild Angus summer evenings. When such an evening does come along, there is no better place on earth to be, especially if conversation is interrupted from time to time by the heavy splash of a good sea trout desporting itself in Pheasantry. Incidentally, the best salmon lie in that pool is on the South side of the streamy water flowing into the pool – in the slightly slower current, which should be obvious to the practised eye of the experienced flyfisherman.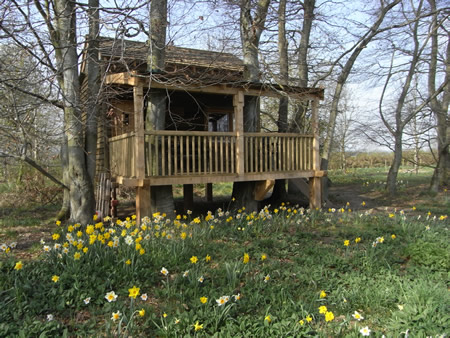 David's Tree House at daffodil time 2011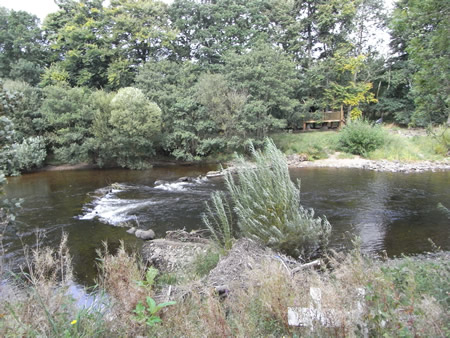 View of DTH from south bank, looking across Pheasantry Pool in low water.
This part of the FCW fishery used to be neglected because, especially in high water, it was quite difficult getting there. We have now resolved this problem by installing a footbridge from the S bank just upstream of the Red Brae car park. The new footbridge (about which more anon) links up with the suspension bridge at the tail of Castle Stream, and by putting in a track (OK for saloon cars) from the Haughs aqueduct along the N bank to a small car park close to DTH you can get there through the farm on the N bank of the river. The result is that the six pools of Castle Beat are being fished more regularly, and fishermen are starting to enjoy the fishy potential of pools such as Kirkinn, Pheasantry and Nine Maidens. This is good news for the whole fishery because it spreads our catches more evenly across all four beats. In terms of a good place to be it is hard to better Castle Beat, the most private stretch of river at FCW.
PART TWO: THE TWO HUTS AT BOGARDO AND INDIES (to follow later)